Parra To Lead Sydney Economic Recovery
Written by Elliot Nash on 18 June 2020
Parramatta City Council is ready to lead the economic recovery charge in NSW with a plethora of ready-to-go projects to stimulate Sydney's economy as COVID-19 restrictions begin to ease.
Placing a priority on both public and private investments in the Central River City, the Council is calling on the NSW government to push funding into "a long list of construction and infrastructure projects already underway."
Labelling Parramatta a fast emerging economic powerhouse at the centre of global Sydney, City of Parramatta Lord Mayor Bob Dwyer believes Parramatta "is in a unique position to lead Sydney's economic recovery."
"To do this, however, and help get all of Sydney back on its feet, we need assistance from the State Government to commit to public investment and prioritise approvals to encourage private investment in our City."
The "unprecedented period of growth" has seen a rapid increase in the number of residents, workers and visitors in Parramatta, due to projects like the Parramatta Light Rail to Parramatta Square.
It comes as NSW premier Gladys Berejiklian announces it will be dumping the ANZ Stadium redevelopment in exchange for a $3bn fund for smaller, "shovel-ready projects".
"We are now not only guaranteeing our infrastructure pipeline, we will be looking for opportunities to fast-track projects to provide jobs as early as we can."
Already the NSW Government has agreed to bring forward construction work on the Parramatta Light Rail. However, Cr Dwyer is still calling for a commitment to delivery Stage 2 from the government.
"While we appreciate the effort that has gone into fast-tracking some aspects of Parramatta Light Rail, we want to ensure it has a material impact on the overall delivery of the route," Cr Dwyer said.
Stage 2 will see the Light Rail extend from the Parramatta CBD to Sydney Olympic Park, connecting suburbs such as Ermington, Melrose Park and Wentworth Point.
"We are asking for the NSW Government to allocate more resources to this major project so it can be completed as soon as possible."
City of Parramatta Council is calling on the NSW Government to support a suite of ready-to-go projects that will help stimulate Sydney's economic recovery from the COVID-19 crisis and create more jobs.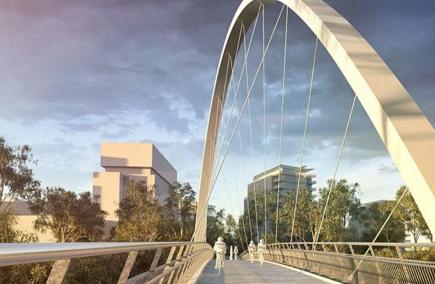 Local businesses are at the centre of Cr Dwyer's concern, citing a need to "minimise the disruption".
"Our local businesses are the backbone of this City, and I want to ensure they're still here at the end of all this."
Parramtta is clearly looking to avoid the debacle that was the CBD light rail project which saw the state compensate businesses $576 million in the form of backdated rent relief.
Construction of the Light Rail saw some businesses reporting losses of up to 30%, the current threshold for companies requesting JobKeeper benefits.
The CBD Light Rail has cost more than $3 billion, double what then transport minister Gladys Berejiklian predicted in 2012.
While Cr Dwyer was thankful for the NSW Government's continued efforts to relocate the Powerhouse Museum to Parramatta, $645 million is still needed from taxpayers to pay for the estimated $1.17 billion project.
The Powerhouse Museum relocation is expected to bring in 2300 jobs to the City of Parramatta, however despite this, no jobs have yet been created.
"No one has seen the avalanche of construction jobs as promised; we've only seen consultants in offices getting richer," said Labor's treasury spokesman Walter Secord.
"It is not too late to end this farce and re-direct the $1.5 billion to stimulus projects to create jobs for unemployed men and women across NSW."
For more information regarding ready-to-go opportunities in the River City, please visit the Invest Parramatta website and check out their Shovel Ready projects.
---