Five Parramatta Square 'Coming To Life'
Written by Elliot Nash on 7 August 2020
Parramatta's new flagship community, cultural and civic building is beginning to take flight as construction begins on the $130 million "once-in-a-generation infrastructure project".
Dubbed by some as the "starship enterprise" the unique design of 5 Parramatta Square (PS5) is coming to life with the release of new artist impressions and a 3D flythrough animation offering a first look inside the six-storey building.
With the potential to become an iconic landmark in the centre of global Sydney, City of Parramatta Lord Mayor Cr Bob Dwyer said: "5 Parramatta Square is a building for our community − a once-in-a-generation infrastructure project and acclaimed cultural hub where people can work, create, learn and play".
"Councillors first committed to the vision of a new civic building within a world-class commercial and cultural precinct in 1996 and we are incredibly proud to see their ambitious plan taking shape.
"Parramatta Square is one of the biggest urban regeneration projects Australia has ever seen and 5 Parramatta Square will be the beating heart of this revitalised CBD precinct."
Featuring a a permanent home for a significantly enhanced City of Parramatta Library, concept pictures shows individuals studying on the grand stairs of the proposed "world-class" public library.
Designed by French firm Manuelle Gautrand Architecture and Aussie firms DesignInc and Lacoste + Stevenson, the asymmetrical landmark incorporates a unique roof treatment to disperse natural light evenly and shade the interiors, which are fully visible from the square.
"The architecture celebrates its public contribution. Its distinctive geometry makes it a landmark," said DesignInc Director Richard Does.
The three-hectare hub is the final addition to the new $2.7 billion Parramatta Square precinct, set for completion in 2022. Describing the building as "a striking, place-making design," Built National Director Steve Boss said PS5 is also a 6-Star Green building.
Appointed to the project by the Council in February following a rigorous selective tender process, the Australian construction group has already created more than 200 short-term construction jobs.
It comes following similar announcements for eco-friendly buildings from the likes of Australian tech giant Atlassian. Set to be built adjacent to Central Station, the 40-storey hybrid tower is made of a combination of mass timber, concrete, and steel.
"Sydney's Central River City is experiencing a bold transformation and 5 Parramatta Square is Council's investment in its future − an accessible multi-purpose space that will support our community's changing needs for generations to come," said Cr Dwyer.
"From its world-leading sustainable design to its state-of-the-art facilities, 5 Parramatta Square reflects who we are as a City – vibrant, innovative and evolving, with a rich history and promising future."
City of Parramatta Council's long-term vision for a flagship community, cultural and civic building in the Parramatta CBD is coming to life as construction of 5 Parramatta Square begins.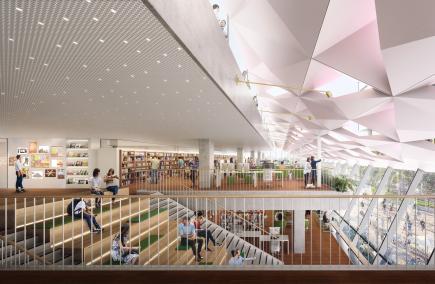 ---